Thursday, February 24, 2011 at 10:32AM
"It never hurt anyone to smile," Mrs. Turpin said. "It just makes you feel better all over."
—"Revelation" by Flannery O'Connor
The schoolteacher winced, but almost at once he was smiling again.
—"The Violent Bear It Away," by Flannery O'Connor
FIGHT NEWS 2018!
"Austell" Todd Sentell (1 and 1) fights in the first annual Masters Atlanta Open, a USA Boxing-sanctioned event for Masters level amateur fighters only (age 41+) ... sponsored by Atlanta's Sweet Science Fitness and Boxing, and led by Marty Hill, Sweet Science owner and chairman of USA Boxing's Masters Committee.
After meeting the fighters on Thursday, August 9 at Sweet Science, matches are scheduled for Friday and Saturday, August 10 and 11 at the Concourse Athletic Club in Atlanta!
FIGHT NEWS 2017!
The teacher, writer, artist congratulates his opponent, Geoffrey Robbins, for one of the most exciting matches on Friday night, October 21 in Corporate Fight Night 12 at the Georgia Aquarium. Geoffrey wins in a split decision over "Austell" Todd Sentell. The two oldest fighters in the event put on a remarkable show! Sentell's amateur record now moves to 1-1. Join him at Delgado Boxing in Sandy Springs for a boxing workout of your life!
FIGHT NEWS 2016!
The teacher, writer, artist fights again ... on Friday night, October 21, 2016 in Corporate Fight Night 12 at the Georgia Aquarium against Geoffrey Robbins in a USA Boxing-sanctioned Masters (age 41+) amateur bout. Why? Because outside of your day job, it's really important to have some super serious hobbies.
THE ART OF BOXING?
NOVEMBER 20, 2015: The artist-teacher wins! Thanks for being at one of Atlanta's most exciting social networking and professionally run boxing events! Todd trains at Delgado Boxing in Sandy Springs ... come join him for the best boxing gym camaraderie in Atlanta!
TEACHER, ARTIST ... BOXER!
Join Todd for his first amateur boxing match, sanctioned by USA Boxing, on Thursday, November 19 at the glitzy downtown Atlanta event ballroom, 200 Peachtree, in the 10th Annual Corporate Fight Night!
TODD'S TEACHING MEMOIR IS OUT!
With the publication of the memoir, Todd is now a candidate for 2015 Georgia Writers Association "Author of the Year" award in the memoir category. The memoir is also a candidate for the 2014 Thurber Prize for American Humor
***
Todd's teaching memoir, "Can't Wait to Get There. Can't Wait to Leave," at corkscrew turns hilarious, heartwarming, and sometimes heartbreaking, has just been published by Stairway Press.
Click here for the book version!
"I was the walking-around definition of learning on the job as furiously as possible. My students never knew I wasn't degreed-up and certified, and they wouldn't have cared if I was. They just didn't want any homework."
—from Can't Wait to Get There. Can't Wait to Leave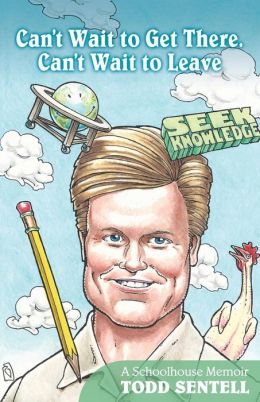 From America's funniest golf novelist comes an eye-opening, true-life account of his corkscrew, mid-life career change predicament: for years he taught special education students who didn't necessarily want to be taught anything—much less come to school. But who ultimately teaches the teacher? Exactly, the students do.
In this warm-hearted schoolhouse memoir—at sharp turns wildly hilarious, heartbreaking, and ferociously revealing, written in a hugely engaging vignette form rich in situational humor—you'll witness a teacher trying to herd cats with world-class whimsy, classroom creativity, and a wiggly rubber chicken.
You'll meet the elfish Spike, who entertains his homeroom buddies, and his wide-eyed teacher, by placing both feet behind his head and rocking back and forth on the floor on his knobby spine. As it turns out, Spike is discovered to actually be a leprechaun. And that's okay with everybody, too. And the cat-eyed Petal, who at one moment is possibly the smartest girl in the school, but who at any moment might leap across the room, claws bared, toward the cat herder with bad intentions. Lamar…who lives in an alternate reality that's actually a pretty interesting place. And the rest of Todd's many students, who are revealed to be geniuses at making class time apocalyptically fascinating for everybody.
It's a deeply affectionate memoir, brilliantly conceived with a novelist's touch, well enjoyed from beginning to end—or dip in anywhere and be instantly entertained. You'll also discover that the people holding up the educational process from time to time aren't necessarily the kids. Can't Wait to Get There is also a story about the modern state of the sometimes cantankerous classroom union between special education teachers, parents, and administrators.
Todd is a master observer and commentator, writing the truth with deep affection and titanic wit, making this book a masterpiece in the literature of the classroom.
Lamar, in a rare calm moment, said it all. "Mr. Sentell, those were the best days of my life!" Mr. Sentell didn't disagree.
Click here for the Kindle version!
GEORGIA WRITERS ASSOCIATION 2015 AUTHOR OF THE YEAR AWARDS
June, 2015
Wish your favorite folk artist and writer good luck as he joins a number of other remarkable Georgia writers at the 51st Annual Georgia Author of the Year Awards banquet at Kennesaw State University. Todd's hilarious teaching memoir, CAN'T WAIT TO GET THERE. CAN'T WAIT TO LEAVE, is a candidate for the memoir award, and his lunatic golf adventure, THE COLLECTED EDITION OF TOONAMINT OF CHAMPIONS AND WHY GOLF IS SO EXCITING!, is a candidate in the humor category.
His memoir is also a candidate for the 2015 Thurber Prize for American Humor.
TODD SPEAKS. AGAIN
Todd Speaks to the Lambert High School (Forsyth County, Georgia) journalism class on December 3 on journalism, fiction and nonfiction book writing, and publishing.
TODD SPEAKS
Todd Speaks to the Lambert High School (Forsyth County, Georgia) marketing groups on November 30 on entrepreneurship, marketing, public relations, sales management, and journalism.
STAIRWAY PRESS TO PUBLISH TODD'S SCHOOLHOUSE MEMOIR
"Can't Wait to Get There. Can't Wait to Leave," at corkscrew turns hilarious, heartwarming, and sometimes heartbreaking, will be published in December, 2014.
2014 WINNING WRITERS SPORTS FICTION AND ESSAY CONTEST
Todd has just submitted four incredible pieces to this year's contest ...
Mr. P, Indubitably
If You Can Play, Play. If You Can't, Wing it Anyway
Ticketless in Augusta: 1986
Golf Club a Go-Go
HIPPOCAMPUS MAGAZINE: MEMORABLE CREATIVE NONFICTION
Will be publishing Todd's stunning essay "Southern Rain" in the July, 2014 issue
ENJOY TODD'S LATEST GOLF JOURNALISM
"History is a State of Mind"
Page 20 in the March/April 2014 issue
WHY GOLF IS SO EXCITING! A NOVELTY!
Todd announces the March 4, 2014 publication of his second book ... in paperback and e-book.
Ever had some dumb hick up and tell you about his round of golf-hole by dang hole? Ever been knocked on your skull real hard by a school bus? The numbing effect is exactly the same. But in Why Golf is so Exciting! along comes the hump-backed Waddell Tiddybumpus to prove-all by himself, thumping along hole by hole-that a Saturday afternoon round of golf at the ol' country club really is one of the most riveting of all human experiences. Of course, what memorable round of golf doesn't involve some sex and violence and insane people? Waddell Tiddybumpus seems to attract the very best of the sport. God forbid if Saturday afternoon golf widows knew what fun their men were really having.
It's the hilarious "Why Golf Is So Exciting! A Novelty!" in a collection with the previously published and critically acclaimed "Toonamint of Champions" ... perhaps the bravest sports novel ever written, and a 2008 candidate for the Thurber Prize for American Humor.
In Toonamint of Champions, originally published in 2007, the author Todd Sentell predicted that Augusta National Golf Club, home of the Masters, would one day admit a black woman into their membership. The historic moment happened in 2012. Of course, Condoleezza Rice ain't Toonamint's LaJuanita Mumps, a sort of secretary of state of her own ... a state of apocalyptic irreverence ... and a constant agitator to her fiancé, Waymon Poodle, whose life goal is to play Augusta National Golf Club just one time before he dies. What ensues in this lunatic adventure has never been seen in the history of golf fiction. Frequently compared to A Confederacy of Dunces and I Love You, Beth Cooper, Toonamint of Champions is guaranteed to be the funniest and most raucous book you'll ever read.
Purchase "Why Golf Is So Exciting!" here.
SPIKE ROOLS!
Your positive response to A Dixie Diary, Gently Herding Cats, Classroom Confidential, and all the rest of some of the loftiest moments in modern American education have been overwhelming—and much appreciated—so your attentive teacher has added some historiographic new stories for you. Mischievous and irreverent are darn applicable adjectives, too, and easier to pronounce.
Your rebel yelling for more Spike stories has also been heard by your humble diarist. Believe me, I understand your insatiableness for the elf's magic.
I was a wide-eyed and freaked-out substitute teacher for the school when I first met him. The school asked me if I'd like to add to my uniquely madcap experience and teach a Tuesday after-school manners class to kids who got signed up by their exasperated parents. Of course, anything that helps foster social success in America's youth was fine with me, especially since an hour and a half of giggling Please-and-Thank-you and Yes sir-and-Yes ma'am role play drills fosters twenty-five easy bucks every Tuesday into my cheap cigar fund.
Spike's mother signed him up. I was instantly amazed at the first moments of THE SPIKE EXPERIENCE. The naturally orange hair. The piercing eyes. The electric wit. His electric energy. There were millions of freckles involved, too. Spike was a fourth grader then and about seven inches tall. I knew in my heart that Spike would one day rule the world and that I would become the president of his fan club.
Now, having been in shock and awe of Spike for a few years, I wonder why this kid doesn't have his own unreality show on national TV, but he should.
So to quench your thirst for more spikenaciousness, or to possibly scare you into getting back to work instead of sneaking around in my dang diary, enjoy ...
Spike In Toyland and Satan Can Go To Hell!
Mental Gymnastics and Spike Takes Language Arts Seriously
Does Spike rule, or what? He sure does, but in a different way than regular kids. Spike rools. Know what I mean?
Spike taught me some things about the world and the universe I didn't know and I subscribe to the National Enquirer. In other words, while pondering Spike, you may get all philosophical and mumble ... Who teaches the teacher about kids like Spike?
Spike does. Spike teaches teachers.
One day I asked Spike to deliberately fail eighth grade so I could have him again the next year and let some hellacious history repeat itself. Spike said he would, but squeaked on out anyway while he whipped his new monkey tail around.
Selfish, I know. But teachers have funny feelings, too.
TODD SENTELL, Somewhere in Dixie