Saturday, January 15, 2011 at 2:46PM
He returned to his journal and presently the screams subsided.
—"The Comforts of Home," by Flannery O'Connor
Todd was born and raised in Georgia. Teaching Georgia history to kids with learning, emotional, and behavior disorders was an apocalyptic career change for him. For many years before he became a schoolteacher he sold something real expensive under tremendous quota pressure to a dwindling market of ootsie-tootsie rich people during a global economic meltdown. Compared to teaching that job was easy.
His hilarious comic novel, Toonamint of Champions—How LaJuanita Mumps Got to Join Augusta National Golf Club Real Easy: A Particularly Allegorical Comedy of Real Bad Manners, perhaps the bravest sports novel ever written, was a candidate for the 2008 Thurber Prize for American Humor.
Todd was a 2011 candidate for induction into the Georgia Writers Hall of Fame sponsored by the University of Georgia Libraries. He's also a two-time award winner for magazine journalism from the Magazine Association of the Southeast, and a long time ago, Todd was a local TV personality in the state that started all that secession business.
His hilarious novella, "Why Golf Is So Exciting! A Novelty," was published in March in paperback and e-book from Stairway Press in a collection which also includes a revised edition of the critically-acclaimed Toonamint of Champions.
A Dixie Diary is a heartwarming and hilarious account of Todd's madcap experience as a rookie Georgia history teacher as well as the kid's experience with Todd as their teacher.
It was apocalyptic for them, too.
MORE ABOUT THE DIXIE DIARIST
Todd's teaching memoir, "Can't Wait to Get There. Can't Wait to Leave," at corkscrew turn hilarious, heartwarming, and sometimes heartbreaking, was published in December 2014 by Stairway Press.
Click here to buy the funniest teacher's memoir ever written.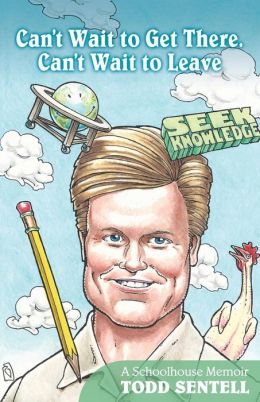 With the publication of the memoir, Todd is now a candidate for 2015 Georgia Writers Association "Author of the Year" award in the memoir category. The memoir is also a candidate for the 2014 Thurber Prize for American Humor.
Todd is a past recipient of Georgia Trend magazine's "Best and Brightest: 40 under 40" award, given to Georgia's most innovative business, educational, cultural, and political leaders.
Todd has just been named a featured member of Edutopia, the web site of the George Lucas Educational Foundation, for his astute comments in response to various school and teaching-related articles. Edutopia announced, "The Dixie Diarist has plunged into our discussions with wit and insight."
He was recently a live radio guest on WGST's Rob Johnson show, conversing on education and the culture and history of Atlanta. He was also recently profiled by the Atlanta Journal-Constitution in the article, "Studying State's Educators: What Makes a Good Teacher?" and by the Atlanta Journal-Constitution in the article, "Author-Teacher Has Golf Bag Full of Tricks."
In various leadership roles since the early 1990s, Todd has helped raise extraordinary amounts for the American Cancer Society, the Cystic Fibrosis Foundation, Woodward Academy, the Howard School, Mill Springs Academy, the Lionheart School for Autism, and the Georgia State Golf Foundation.
As a teacher, special lecturer, guest speaker, supply teacher, workshop instructor, career day speaker, one-one-one academic and behavioral advisor, and writer, Todd has also been associated with …
The University of Georgia
Kennesaw State University
Grand Valley State University in Allendale, Michigan
... as well as a large number of independent special education, mainstream, and parochial schools, grades K to 12.
Todd is also an accomplished private tutor. He's "club president" of Mister Todd's Tutoring and Study Club, where in the evenings and weekends he counsels students and their parents on reading comprehension, writing and reading skills, school organization skills; social skills; career skills; and leadership skills.
Todd was a 2011 nominee for the Georgia Writers Hall of Fame sponsored by the University of Georgia Libraries. His nearly seventy comic entertainments, golf bios and essays, and golf lifestyle articles have been published in national, regional, state, Atlanta area magazines, and scholarly newsletters and web sites.
He began his career as a sports reporter at WYFF TV in Greenville, South Carolina, and then became the weekend sports anchor at WIS TV in Columbia, South Carolina.
Todd's an accomplished amateur golfer, abstract artist, and recreational boxer ... he's trained at the Tiger Academy of Martial Arts, the Alpharetta Police Athletic League, and Delgado Boxing ... but urges those interested in the recreation to not box certain highly focused women who are in training to become paid professionals as there are much less painful ways to submit to the pugilistic wishes of the opposite sex.
See Todd's remarkable abstract and folk art work at Action Jackson Art at www.actionjacksonart.com
He's run fourteen marathons in eight different states and five half-marathons in his home city, as well as the granddaddy of all obstacle course races, the "Tough Mudder."
In 2006, he competed in the 100 and 400 meter dash against former Olympians and other athletes from across America at the USA Track and Field Masters Outdoor National Championship in Charlotte, North Carolina. Todd is a long-time member of the Atlanta Track Club and the United States Track & Field Association.
Todd is an award-winning graduate of Woodward Academy in College Park, Georgia, and Furman University, where he received a B.A. degree in Psychology. He was a member of the university's track and field team.
For a large part of his career, with a total of $27 million in personal or managed elite-market membership sales, Todd was director of sales, marketing, and communications of Fuji Development's The Golf Club of Georgia, one of America's most prestigious and philanthropic 36 hole private golf clubs. At the same time he was director of marketing and media relations of his company's high end public club, White Columns Golf Club, the most awarded public golf club in the modern history of Georgia. Todd is co-founder of The Golf Club of Georgia's premier golf event, The Georgia Cup, an annual match play event between the reigning United States and British Amateur champions whose proceeds are awarded to the Georgia State Golf Foundation. The Golf Club of Georgia was also the site for several years of the Nationwide Championship, a Senior PGA Tour event, shown on ESPN.
Later, as president of Lagniappe Consulting, a sales, ethics, communications, and reputation/brand development consultancy to high-end home and golf developments and resorts, his personal clients included The Ford Plantation, the Cliffs Communities, the University Clubs by Melrose division of the Melrose Company, Turner Hill Golf Club in Ipswich, Massachusetts, White Columns Golf Club, and Barnsley Gardens.